Nella Tana Dei Lupi - Den Of Thieves (2018 ITA-ENG) [720p] [P92]
TORRENT SUMMARY
Status:
All the torrents in this section have been verified by our verification system

Category:
Movies
Size:
3 GB in 1 file
Upload On:

05-10-2018

by user Transea
Swarm:
0 Seeds & 0 Peers
Vote:
No votes yet.
DESCRIPTION
Nella tana dei lupi (2018)
Nella tana dei lupi (Den of Thieves) è un film del 2018 scritto e diretto da Christian Gudegast. Titolo originale: Den of Thieves Lingua originale: Inglese Paese di produzione: Stati Uniti d'America Anno: 2018 Rapporto: 2,35 : 1 Genere: azione,drammatico,thriller,poliziesco,giallo,crime Regia: Christian Gudegast Soggetto: Christian Gudegast, Paul Scheuring Sceneggiatura: Christian Gudegast Produttore: Mark Canton, Tucker Tooley, Gerard Butler, Alan Siegel Casa di produzione: G-BASE, Diamond Film Productions, Tucker Tooley Entertainment Distribuzione: Lucky Red, Universal Pictures Cast: Gerard Butler: Nick "Big Nick" O'Brien 50 Cent: Levi Enson O'Shea Jackson Jr.: Donnie Wilson Pablo Schreiber: Ray Merrimen Evan Jones: Bo "Bosco" Ostroman Maurice Compte: Benny "Borracho" Magalon Kaiwi Lyman: "Tony Z" Zapata Dawn Olivieri: Debbie O'Brien Mo McRae: Gus Henderson Eric Braeden: Ziggy Zerhusen Meadow Williams: Holly Cooper Andrews: Mack Brian Van Holt: Murph Connors Max Holloway: Bas Jay Dobyns: Wolfgang Alix Lapri: Maloa Matthew Cornwell: Joseph Oleg Taktarov: Alexi Doppiatori italiani: Luca Ward: Nick "Big Nick" O'Brien Pino Insegno: Levi Enson Fabio Boccanera: Donnie Wilson Massimo Bitossi: Ray Merrimen Andrea Lavagnino: Bo "Bosco" Ostroman Christian Iansante: Benny "Borracho" Magalon David Chevalier: "Tony Z" Zapata Claudia Catani: Debbie O'Brien Daniele Raffaeli: Gus Henderson Emilio Mauro Barchiesi: Mack
Nella città di Los Angeles, il cui tasso di rapine in banca è il più alto del mondo, si intrecciano le esistenze di una squadra di agenti d'élite e della più famigerata gang di ladri, che pianifica un colpo ai danni della filiale locale della Federal Reserve Bank. Gli uomini capitanati da Nick O'Brien faranno di tutto per impedire a Ray Merrimen e ai suoi colleghi criminali di mettere le mani su oltre 30 milioni di dollari....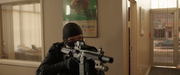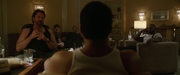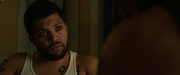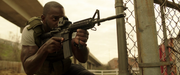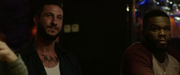 [ Info sul file ] Nome: Nella Tana Dei Lupi - Den Of Thieves (2018 ITA-ENG) [720p] [P92].mkv Data: Fri, 05 Oct 2018 20:19:09 +0200 Dimensione: 3,207,239,227 bytes (3058.661677 MiB) [ Magic ] Tipo file: data [ Info generiche ] Durata: 02:20:40 (8439.68 s) Contenitore: matroska Production date: Fri, 05 Oct 2018 22:16:17 +0200 Totale tracce: 3 Traccia n. 1: video (V_MPEG4/ISO/AVC) {ita} Traccia n. 2: audio (A_AC3) {ita} Traccia n. 3: audio (A_AC3) {eng} Muxing library: Lavf57.20.100 Writing application: Lavf57.20.100 [ Dati rilevanti ] Risoluzione: 1280 x 532 Larghezza: multipla di 32 Altezza: multipla di 4 DRF medio: 19.539768 Deviazione standard: 4.306611 Media pesata dev. std.: 4.272631 [ Traccia video ] Codec ID: V_MPEG4/ISO/AVC Risoluzione: 1280 x 532 Frame aspect ratio: 320:133 = 2.406015 Pixel aspect ratio: 1:1 = 1 Display aspect ratio: 320:133 = 2.406015 Framerate: 24 fps Dimensione stream: 2,257,851,994 bytes (2153.255457 MiB) Durata: 02:20:20 (8420.208199 s) Bitrate (bs): 2145.174505 kbps Qf: 0.131259 [ Traccia audio nr. 1 ] Codec ID: A_AC3 Freq. campionamento: 48000 Hz Canali: 2 Dimensione campioni: 16-bit Dimensione stream: 472,622,080 bytes (450.727539 MiB) Tipo di bitstream (bs): AC3 Frames (bs): 263,740 Durata: 02:20:40 (8439.68 s) Chunk-aligned (bs): Sì Bitrate (bs): 448 kbps CBR Freq. campionamento (bs): 48000 Hz Modo (bs): stereo [ Traccia audio nr. 2 ] Codec ID: A_AC3 Freq. campionamento: 48000 Hz Canali: 2 Dimensione campioni: 16-bit Dimensione stream: 471,534,336 bytes (449.690186 MiB) Tipo di bitstream (bs): AC3 Frames (bs): 263,133 Durata: 02:20:20 (8420.256 s) Chunk-aligned (bs): Sì Bitrate (bs): 448 kbps CBR Freq. campionamento (bs): 48000 Hz Modo (bs): stereo [ Bitstream video ] Tipo di bitstream: MPEG-4 Part 10 User data: x264 | core 155 r2901 7d0ff22 | H.264/MPEG-4 AVC codec User data: Copyleft 2003-2018 | http://www.videolan.org/x264.html | cabac=1 User data: ref=12 | deblock=1:-2:-2 | analyse=0x3:0x133 | me=umh | subme=10 User data: psy=1 | psy_rd=1.00:0.15 | mixed_ref=1 | me_range=48 | chroma_me=1 User data: trellis=2 | 8x8dct=1 | cqm=0 | deadzone=21,11 | fast_pskip=1 User data: chroma_qp_offset=-3 | threads=12 | lookahead_threads=3 User data: sliced_threads=0 | nr=0 | decimate=1 | interlaced=0 User data: bluray_compat=0 | constrained_intra=0 | bframes=12 | b_pyramid=2 User data: b_adapt=2 | b_bias=0 | direct=3 | weightb=1 | open_gop=0 | weightp=2 User data: keyint=240 | keyint_min=24 | scenecut=40 | intra_refresh=0 User data: rc_lookahead=40 | rc=2pass | mbtree=1 | bitrate=2148 | ratetol=1.0 User data: qcomp=0.60 | qpmin=0 | qpmax=69 | qpstep=4 | cplxblur=20.0 User data: qblur=0.5 | vbv_maxrate=62500 | vbv_bufsize=78125 | nal_hrd=none User data: filler=0 | ip_ratio=1.40 | aq=1:1.00 SPS id: 0 Profile: [email protected] Num ref frames: 12 Aspect ratio: Square pixels Chroma format: YUV 4:2:0 PPS id: 0 (SPS: 0) Tipo di codifica entropica: CABAC Weighted prediction: P slices - explicit weighted prediction Weighted bipred idc: B slices - implicit weighted prediction 8x8dct: Sì Totale frames: 202,085 Drop/delay frames: 0 Frames corrotti: 0 P-slices: 48806 ( 24.151 %) ##### B-slices: 151549 ( 74.993 %) ############### I-slices: 1730 ( 0.856 %) SP-slices: 0 ( 0.000 %) SI-slices: 0 ( 0.000 %) [ Analisi DRF ] DRF nedio: 19.539768 deviazione standard: 4.306611 max DRF: 31 DRF=1: 4 ( 0.002 %) DRF=2: 177 ( 0.088 %) DRF=3: 594 ( 0.294 %) DRF=4: 893 ( 0.442 %) DRF=5: 1330 ( 0.658 %) DRF=6: 1594 ( 0.789 %) DRF=7: 1353 ( 0.670 %) DRF=8: 920 ( 0.455 %) DRF=9: 1074 ( 0.531 %) DRF=10: 775 ( 0.384 %) DRF=11: 574 ( 0.284 %) DRF=12: 921 ( 0.456 %) DRF=13: 1738 ( 0.860 %) DRF=14: 2634 ( 1.303 %) DRF=15: 4778 ( 2.364 %) DRF=16: 9393 ( 4.648 %) # DRF=17: 14624 ( 7.237 %) # DRF=18: 25183 ( 12.462 %) ## DRF=19: 33703 ( 16.678 %) ### DRF=20: 26817 ( 13.270 %) ### DRF=21: 17659 ( 8.738 %) ## DRF=22: 13752 ( 6.805 %) # DRF=23: 10661 ( 5.276 %) # DRF=24: 8700 ( 4.305 %) # DRF=25: 7238 ( 3.582 %) # DRF=26: 5591 ( 2.767 %) # DRF=27: 3948 ( 1.954 %) DRF=28: 2555 ( 1.264 %) DRF=29: 1723 ( 0.853 %) DRF=30: 932 ( 0.461 %) DRF=31: 173 ( 0.086 %) DRF>31: 0 ( 0.000 %) P-slices DRF medio: 18.756218 P-slices deviazione std.: 4.278486 P-slices max DRF: 31 B-slices DRF medio: 19.825977 B-slices deviazione std.: 4.280615 B-slices max DRF: 31 I-slices DRF medio: 16.572832 I-slices deviazione std.: 3.408025 I-slices max DRF: 28 [ Conformità al profilo ] Profilo selezionato: MTK PAL 6000 Risoluzione: 1280 x 532 > 720 x 576 Framerate: 24 <> 25 Buffer underflow: 01:57:09 (frame 168707) Buffer underflow: 01:57:11 (frame 168734) Buffer underflow: 01:57:12 (frame 168761) Buffer underflow: 01:57:13 (frame 168785) [ Edition entry ] Nascosto: No Selezionato di default: Sì Playlist: No Capitoli: 00:00:00,000-00:09:38,291: 00:00:00.000 {und} 00:09:38,291-00:15:56,875: 00:09:38.291 {und} 00:15:56,875-00:21:49,208: 00:15:56.875 {und} 00:21:49,208-00:32:42,917: 00:21:49.208 {und} 00:32:42,917-00:38:37,791: 00:32:42.917 {und} 00:38:37,791-00:44:44,333: 00:38:37.791 {und} 00:44:44,333-00:52:21,249: 00:44:44.333 {und} 00:52:21,249-00:58:27,708: 00:52:21.249 {und} 00:58:27,708-01:03:36,833: 00:58:27.708 {und} 01:03:36,833-01:09:14,583: 01:03:36.833 {und} 01:09:14,583-01:16:45,958: 01:09:14.583 {und} 01:16:45,958-01:21:28,708: 01:16:45.958 {und} 01:21:28,708-01:27:24,708: 01:21:28.708 {und} 01:27:24,708-01:32:13,458: 01:27:24.708 {und} 01:32:13,458-01:41:55,499: 01:32:13.458 {und} 01:41:55,499-01:50:03,207: 01:41:55.499 {und} 01:50:03,207-01:56:32,000: 01:50:03.207 {und} 01:56:32,000-02:06:00,249: 01:56:32.000 {und} 02:06:00,249-02:13:46,374: 02:06:00.249 {und} 02:13:46,374-02:20:39,659: 02:13:46.374 {und} Rapporto creato da AVInaptic (18-12-2011) in data 5-10-2018 20:33:06
VISITOR COMMENTS (0
)
FILE LIST
Filename
Size
Nella Tana Dei Lupi - Den Of Thieves (2018 ITA-ENG) [720p] [P92].mkv
3 GB